Negotiation Training: How to Build Self-Confidence and Close the Deal
Download this e-book to learn how to become more confident.
How to Build Self-Confidence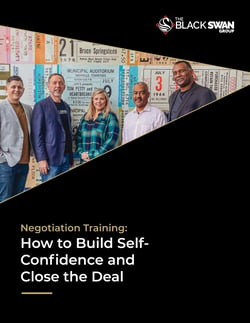 In the world of high-stakes negotiation, appearance and perception are everything. When you approach the table nervously, your counterpart can tell right away. On the other hand, when you approach the table with confidence, it becomes much easier to get the outcomes you want.

Download our free guide today to learn:
Why confidence matters in a negotiation.
How to navigate a negotiation with confidence.
What to do after a negotiation to improve your confidence.
The easiest way to build self-confidence.