Never Split the Difference: Study Guide
Let's put what you've learned into practice.
Getting more of what you want out of your negotiations is easier than you think.
With so many tips and best practices in Never Split the Difference, it's understandable that you may not know where to start.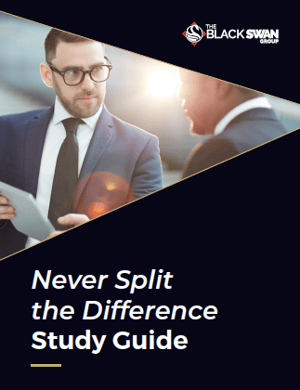 Truly internalizing concepts from Chris Voss's book, Never Split the Difference: Negotiating as If Your Life Depended on It, and practicing them will make you a world-class negotiator. But where to start? Use this study guide to pull out key concepts, facilitate real-world practice, and get the most out of the book.
The key to truly changing the way you negotiate is through constant practice and evaluation. This helpful Study Guide outlines takeaways from the book chapter by chapter, including:
Phrases to remember

Key processes

Examples of concepts in action
The Study Guide also includes the One Page Negotiation sheet outlined in the book, which you can use to prepare for any negotiation.
Download the Study Guide by filling out the form »