The Negotiation One Sheet
As discussed in the appendix of Never Split the Difference
When the pressure is on, you don't rise to the occasion—you fall to your highest level of preparation.
Use this PDF to prepare for your next negotiation and recognize a 7:1 rate of return on time saved.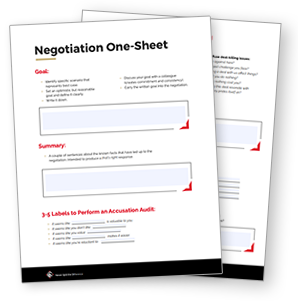 In Never Split the Difference, Chris Voss covers the story of a freelance marketing strategist who had a problem. One of her clients hired a new CEO, and he refused to pay the entirety of the marketing strategist's final bill.


Instead of using tools such as calibrated questions, labeling, mirroring, and no-oriented questions, the marketing strategist lost her cool and got into an argument with the CEO. In the end, she didn't even get half of the bill amount.


"When the pressure is on, you don't rise to the occasion—you fall to your highest level of preparation." The Negotiation One Sheet is a tool meant to help you prepare for any negotiation by thinking through the tactics covered in Never Split the Difference. According to Chris Voss, good initial preparation for each negotiation yields at least a 7:1 rate of return on time saved renegotiating deals or clarifying implementation.

Download the Negotiation One Sheet by filling out the form »