E-Book: Women in Leadership: 4 Challenges and How to Overcome Them
Download this e-book to learn about the common challenges women in leadership face and what you can do to overcome them.
Overcoming Challenges Women in Leadership Face
Many women put enormous pressure on themselves when they become leaders. Instead of handling employees with emotional intelligence, they exert control because they believe it will make them appear stronger. Unfortunately, this will prevent them from unlocking the full potential of their teams.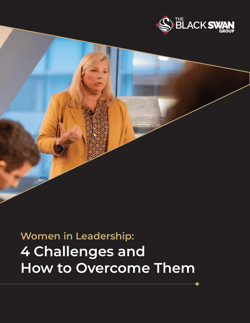 However, by making a few changes to how they lead, women can overcome the unique challenges they face as leaders and take their teams to the next level. Download our free guide to learn:
Why women in leadership tend to exert more control.
The four common challenges women in leadership face and how to overcome them.
The Black Swan skills that can help women become better leaders.
And more!