Real Estate Negotiation Skills E-book
Download our e-book, Real Estate Negotiation Skills: 3 Essential Tips for Closing More Deals, to learn how reaching your full potential as a realtor starts with your ability to demonstrate Tactical Empathy™.
As a realtor, it is not about where you and your client want to end up.
It is about the person you are engaging with and whether or not they trust you.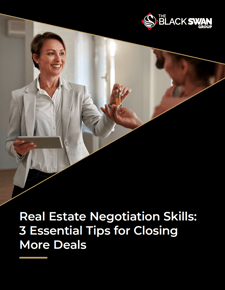 In order to be successful in the real estate industry, you must achieve trust-based influence, and the best way to do that is by using Tactical Empathy™. In this
e-book, we teach you three ways to achieve trust-based influence to set you apart from the competition:
Tip #1: Change Your Mindset
Tip #2: Never Split the Difference
Tip #3: Withhold Your Value
Fill out the form to download this e-book and start closing better deals today!